A Book About Feelings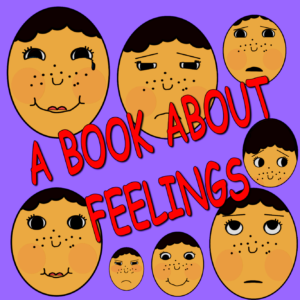 A Book About Feelings
Happy, Sad, Good, Bad For Your Younger Ones
By Cat Blount
*THIS BOOK IS A SHORTER VERSION OF HAPPY, SAD, GOOD, BAD AND IS SPECIFICALLY FOR YOUNGER KIDS*
What makes you feel sad? Caitlin's best friend moved away to another town about ten days ago. That made her feel pretty sad.
Do you ever get angry? Just yesterday, Jack took Caitlin's cookie without asking. He just took it! That made Caitlin really upset.
What about fear. Do you ever feel scared? Wait and see what scared Caitlin seven nights ago. Spooky!
Having feelings are normal. Let Caitlin show you just how normal they are.
This ebook can be purchased through Amazon to be viewed on your Kindle or with a free Kindle app for Windows 8, Android Phones, Android Tablets, and iPads, as well as with the Kindle Cloud Reader.