Author:
CatBlount
[This is the transcribed version of the live show with Sass Bloom and Cat Michaels already in progress.]
Sass: Hello, Cat Michaels! Thank you so much for joining us.
Cat: Hey, Sass. Excited about guesting in Blountville to chat with you and your readers -:D!
Sass: Well, we are so very happy to have you here! Today I would like to focus primarily on your new and soon to be released title, but would you mind telling us a little about your earlier stories first?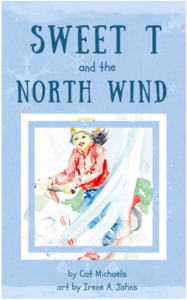 Cat: Sure! My "Sweet T Tales" series follows the adventures of three sisters.
In Book 1, "Sweet T and the North Wind," Sweet T finds magic to help her face the illness of a beloved grandparent.
Sass, you know how kids get attached to their favorite stuffed toy animal? And the catastrophe when that lovey is lost?
Sass: Oh boy do I… LOL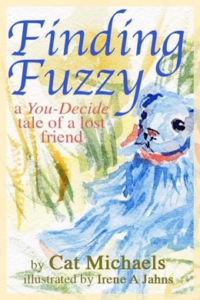 Cat: Well, that inspired me to pen my second book, "Finding Fuzzy: a You-Decide Tale of a Lost Friend." My characters from book 1 travel to North Carolina's shore for a family vacation. Little sister Jenna faces a tough decision after losing Fuzzy, her beloved blue stuffy rabbit. Young readers step in to finish the story by writing or drawing the ending. I am over the moon to see the awesome ways junior authors and artists end my story!
Sass: Even though this is a duo series, I love how you bring the same characters into the new story, but also allow for readers to enjoy a completely different adventure. Tell me about your third title.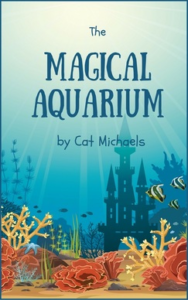 Cat: My last book, "The Magical Aquarium," was penned as a birthday gift for my niece, so it has a different set of characters. Never expected to publish it. (Hah! NEVER say, "never!") When I discovered juicy software apps to create e-books, I couldn't wait to publish this standalone e-fantasy.
Sass: You can just about find apps for everything now, and The Magical Aquarium's name alone sounds exciting, which brings me to my next topic and question about your new title… I love that your books carry your imagination to creative scenes and adventures, would you say your current title is similar to your previous books, or is there a distinct difference with Sweet T and the Turtle Team?
Cat: Aw, thanks! My stories mix mischief and imagination for early and reluctant readers, and what one reader called "family-centered vibes."
"Turtle Team" returns to the Carolina coast and introduces boys to the plot at the request of readers in the Boys' Book Club.
Sass: I like that you take suggestions from your readers! That's great.
Cat: And yes, also at my readers' request, Fuzzy returns and gets lost AGAIN. Sweet T is challenged with making new friends, dealing with name-calling, and protecting sea turtle nests while summering on Gull Island.
Like "The Magical Aquarium," you'll find strong messages about protecting the ocean and marine life.
One difference — "Turtle Team" highlights my characters' tech savvy. Mama shares photos of sea turtle hatches on her blog. Middle sister Kristen, staying at home for computer camp, exchanges parent-approved text messages with T each night. Kristen even supplies a texting glossary to help older family members learn texting shortcuts.
Sass: Ok, so you are going to be able to relate to many of your young readers, for sure, with this new title. Now let's talk a bit about the images for your works. How would you describe the similarities and/or differences in the style of the illustrations for each of your books?
Cat: Irene A. Jahns' dreamy watercolors add just enough context for my series for my early and reluctant readers, typically in grades K-4. Grown-ups tell me they appreciate Irene's stunning art, and junior artists are inspired by her drawings.
My UK-based artist pal, Corrina Holyoake, created "The Magical Aquarium's" vibrant centerpiece illustration is guaranteed to make kids smile because it shows … (Oops! Spoilers! Cannot tell you WHAT it shows because that reveals the aquarium secret!)
Sass: HA! Love it! Yes, let's not give away the secrets, LOL! And the remainder of the illustrations?
Cat: I purchased cartoony stock art for other images that are perfect for this whimsical e-tale.
Sass: Do you know ahead of time what you are looking for in terms of the images in your stories, and, when working with an illustrator, how easy, or difficult, is it to convey the images you see in your mind to the illustrator?
Cat: I've been lucky to work with Irene and Corrina, two brilliant artists! I provide them with a draft of my tale, and we discuss which scene conjures up the best image for each chapter. Sometimes, their concepts totally delight and surprise me. Other times, I offer photos representing strong visuals in my mind's eye (like a skimboard of the Gull Island beach house with red rocking chairs).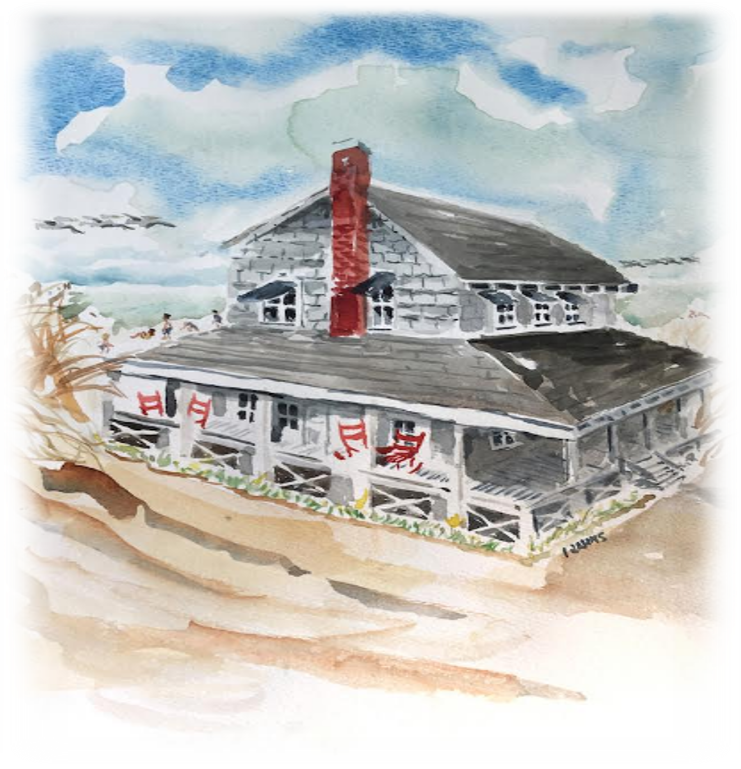 They send their sketches and usually nail the illustration on their first attempt.
Sass, my BIG challenge as a solo Indie authorpreneur is converting their beautiful drawings into perfect digital images, at the correct resolution and page positioning, for publication across print and e-book platforms.
Sass: Yes, that, I am sure, is probably one of the largest challenges of many indies when converting digital images. I would like to say, before moving over to another topic, that you made excellent choices in illustrators! Their work is fantastic, and aligned with your words perfectly! Now, over to another topic, if I may. Your books are all chapter books. Does it just happen that way or do they naturally flow out of you as longer-version titles?
Cat: Having taught kids who struggle to read and penned tales for young nieces and nephews, that style comes easy: short chapters sprinkled with one or two illustrations, peppered with simple sentences, and topped with occasional challenge words.
I don't want young readers discouraged by too much on a page. OR turn off older kids with a 'baby' story. I want to hold kids' attention with relatable characters, bouncy plots, and kid-sized challenges they enjoy.
Sass: And that you do! Now, let's talk specifically about Sweet T and the Turtle Team! We have adventure, a mysterious secret, an approaching storm, and baby turtles that may be in peril!!!!!!!! You can't make this stuff up, but you did, LOL. Tell us how this story, with its multifaceted scenarios, came about.
Cat: tee-hee! Love your description of my plot, Sass! You must be a writer -:D.
Sass: I am not a writer, but I am very close to one ;-)! Thanks for the compliment, though! Now please tell us; we can't wait to hear!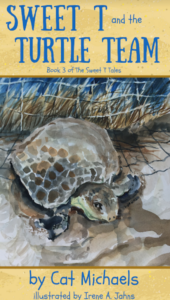 Cat: During my author visits, I tell children to write about what they know and love. And that's just what I did for "Sweet T and the Turtle Team." Growing up on the New England coast and now visiting the shore near my North Carolina home, I have salt water in my veins. I'm no stranger to hurricanes, either,having lived through scores of them.
Sea turtles fascinate me, but I did not know a lot about them. I researched their habits and interviewed my neighbor, Lauren Schaale, a research scientist who worked on Bald Head Island, NC, protecting marine life there. Lauren shared her real-life hatch photos (featured in Mama's blog) and helped me find kid-magnet marine facts for my tale.


I mix everything together and stirred in enough kid-sized challenges for my characters to tackle to keep kids engaged, having fun and learning.
Sass: Oh I love hearing stories behind the stories. They can be so fascinating, and actually entice readers to want to experience the story that was birthed from the author's own experiences. Oh how very wonderful, Cat! Tell us, what is the best part of the story for you, and which image is your favorite?
Cat: Hmmmm. <thinking hard here>
My fave moment is when T discovers Billy's secret. She finds out quite by accident from another island child. I hope readers will be surprised, too, although I add a few clues before it's revealed.
As for the image…..
T's not sure what to do to help Billy with his secret, and she asks her Great-Aunt Mae for advice.
Irene's illustration of this moment is pure emotion. Characters are silhouetted in muted grays against the warm colors of Gull Cottage. Gives me goosebumps every time I flip to that illustration. What do you think?!?
Sass: Cat, I am excited about this entire interview with you, and I can't wait to share the transcript of it, but I have to tell you, sincerely, this is one of my favorite moments. I work closely with Cat Blount, as you know, and she is MEGA into illustrating purely from within, from emotion, from the spirit of the illustrator. I can see her tearing up when she reads this part, and when she sees this image. And yes, this was perfectly illustrated by Irene. Perfectly. Bravo!
Wow, what an interview thus far, right audience!?!
Audience: YES! *cheers and whistles*
Sass: Great stuff! Cat, I understand there is a secret to be revealed in this story? Without giving it away, of course, any hints?
Cat: NO spoilers, Sass, but ….
Billy's secret is one many children encounter (teachers and parents, too!). If you know a little bit about my training in education and the writerly focus of my tales (to early and 'reluctant' readers), you'll guess his secret.

Sass: The intrigue, Cat, I am loving the intrigue! *smile* It will be so much fun for readers to try to figure out the secret before it is revealed! Tell us please, will this be the last volume for your Sweet T collection, and I hope not, or do you think there are more tales waiting within you to come out?
Cat: I love my characters and Coastal setting. I'm already dreaming about my fourth Sweet T Tale, probably a return to Gull Island and more adventures to be had and secrets to unravel, but I'll let my readers (including the Blountville gang, I hope!) help me decide.

Sass: Do it! Audience?
Audience: DO IT!
Sass: LOL, ok, switching back to all of your works, what are people saying about your books? Are you pleased with the consensus of your reviews thus far?
Cat: I'm over the moon when I hear from readers and receive feedback about my stories, Sass! No reviews yet on Turtle Team, as it debuts 21 July, but hoping for early feedback on it soon.
Can I share two reviews with your readers that apply to all my books?
Sass: Absolutely!
Cat:
"A playful story, full of fun, adventure, friendships and loving sibling relationships. Powerful lesson to care for our environment and all creatures that live in the sea. Beautifully told and certainly a joy to read."
– Emily-Jane Hills Oxford for Readers' Favorite: "The Magical Aquarium"
"Irene A. Jahns provided the beautiful watercolor illustrations to accompany the text. Jahns does an amazing job of creating a 'vacation' mood for the setting through the depiction of sweeping oceanside landscapes and snapshots of images that will leave you longing for summertime adventures to begin."
– Renee, Mother Daughter Book Reviews: "Finding Fuzzy"
Sass: Such beautiful, sincere reviews! I can see why you are so pleased. Now I must ask, are there plans to offer both paperbacks and ebooks for all of your titles?
Cat: Yep, ebooks for sure. Now that I learned how to use iBooks Author and Vellum software, I want to offer all my books in digital format. No plans for a print version of "The Magical Aquarium" at this time.
Sass: Yes, very wise to offer your titles in as many formats as possible. Now, let's talk a bit about marketing for a moment. What would you say has been your best marketing technique for getting the word out about your titles?
Cat: It takes time but is totally worth it to build a street team to help with marketing. It's made up of writing buddies, bloggers, and readers who are excited about reading my tales, writing reviews, and recommending my stories to others. It is THE best. My fourth book is easier to launch than the first, thanks to my tribe of readers and writerly friends I find on the writing road.
Hey, your readers might like to know that Cat Blount and I met on social media after a comment about our Catly likeness. Friendship on social media often starts with simple and authentic steps just like that -:D!
Sass: Yes, she did tell me how you met. She was thrilled to find out that I chose you to be one of the first authors that I interview! Your marketing strategy doesn't seem like a strategy at all. It's authentic, like you say, and that is why it works! And that is why your fans and friends adore you so! Now, on the other side, has there been anything that you tried that you now deem as "a total waste of time" in terms of marketing? Indie authors, listen up!
Cat: I wish I had given away fewer books on Goodreads over shorter periods of time. Instead of many books in a single 30-day period, fewer books over two weeks, repeated at one or two intervals, would be more effective.
btw…..author tip:
GR is great for discoverability, but it has not driven sales or reviews for me.
 I use it more as a reader because, well, b/c I love to read and find out what other readers enjoy.
Sass: I hope authors take note! I know that what works or don't work for one, may work or not work for another, but it is so helpful to hear experiences like the ones you shared to assist in others making better choices. That was valuable information, Cat, thank you. And staying along the same theme, now I have a question from Cat Blount. If you could change anything about your journey as an author, what would it be?
Cat: Mercy, where to begin?!?
I knew authoring would be tough, but I had no idea how difficult it would be. The learning curve is humongous!
My biggest ah-ha was understanding that 'writing' is just a small part of the process. There are tons to know about social media as a business. And marketing! I worked in marketing communications for a global firm, but constantly coming up with new ways to market MY books can keep me up at night.

Sass: Isn't that the funniest thing! Cat Blount has a marketing degree, and she also says that the marketing of her work is the worst part of it all! LOL! You actually have something else in common with Cat Blount; she also began writing stories at a very young age. The difference, however, with her is, she could never finish her stories, and she stopped writing for a very long time. What advice do you have for others who dream of becoming an author and don't continue writing or even start to write?
Cat: Another Catly connection….love it!
I don't want to discourage Cat, but I'm keeping it 100. Ready?
Sass: Uh oh, LOL. We are more than ready, let us have it!
Cat: Writing starts with a dream. However, getting books into readers' hands requires the time, focus and diligence of a pragmatic "business" mindset. It entails skills beyond writing, like knowing social media and marketing and being tech-savvy.
A writing journey begins when would-be authors embrace this paradigm.
But they start with baby steps and never go it alone. They engage with other like-minded folk to support and motivate each other long before the first book is ever published….while they are still dreaming! So, Cat Blount is on the right path -:D.
Sass: Some more awesome advice for you authors out there. Now I have to ask one more question before I turn the questions over to your younger fans. When you think of yourself and where you are as an author, what is the first word that pops into your mind and why?
Cat: My Awesome Editor/Spouse calls me "Ms. Busy Pants," because I'm always on the move. LOL!
I'll go with "DETERMINED" because writing on the Kid Lit road is a long, slow journey. Gotta stay energized, innovative, and optimistic facing challenges that feel like scaling Mt. Everest. Plus, have fun along the way!
Sass: Oh I like that nickname! And with another title buzzing about in your mind, I can see the reason for the name. *smile*

Ok, we are ready to turn the questions over to your very eager, and patient, I might add, fans! First we have Casey, an elementary school student, with a question. Casey?
Casey: Which one of your books did you enjoy writing the most?
Cat: Hey, Casey!
I most enjoy whatever book I am currently creating because it requires most of my love and attention. So right now, I am all about "Sweet T and the Turtle Team."
Sass: Great answer. Next up we have a middle school student, Michael. Michael, what's your question for Cat Michaels?
Michael: Would you want to change any of your stories, or add to them?
Cat: Michael (love your name!), I am actually moving in the opposite direction: writing smarter and faster, and being satisfied with fewer changes in order to move on and get more books out to children!
However, as I learn new software, I may make my ebooks even more interactive and fun for you to read.
Sass: Ooooh, more books by Cat Michaels. Exciting! Next question is from Caitlin, and she's in elementary school. Caitlin?
Caitlin: If you could visit the Magical Aquarium, what type of fish would you want to be?
Cat: Definitely dolphins, Caitlin. They are smart, sleek and social! And boy, can they jump and dive.
Sass: I am loving these questions. You guys are doing great! Next, Bella, elementary school. Go ahead, Bella.
Bella: Do you have any pets?
Cat: Ah, Bella, I have seven grand-dogs and one grand-cat. I also grew up with dogs, turtles, parakeets, lizards, and a duck named Cuddles.
Sass: I think guys I can safely say that Cat Michaels likes animals! *smile* Ok, we have another elementary school student. Benny, what's your question?
Benny: Do you spend all day writing?
Cat: I don't, Benny. I take breaks for play and exercise, so I can come back to the keyboard feeling refreshed. I also spend much of my day working on writerly projects: blogging, reading the latest news in children's books and publishing, talking to librarians and booksellers about stocking my tales, meeting teachers and parents. Whew! Not writing, but definitely writing-related.
You know the best part of any day? Connecting with readers like YOU and folks in Blountville!
Sass: "Whew" is right, my goodness. But it is a business, and what you love, so you have to do what you have to do. And we are all very happy that you love connecting with all of your fans! We thank you very much! Next question. We have Alexa, who is actually a high student. What's your question for Cat Michaels, Alexa?
Alexa: What inspired you to want to be an author at such a young age?
Cat: I learned how to read before I got to kindergarten and always had a book in hand, Alexa. Maybe that's why writing comes naturally to me, like smiling or breathing. I enjoyed it from the start and continue to work hard to perfect my craft.
Sass: Cat, we now have Sabrina who is in kindergarten. Sabrina, you can ask Cat Michaels your question now.
Sabrina: Why don't you write books about pancakes?
Cat: Brilliant idea, Sabrina! There are lovely pancake and french toast books already written, so I might feature pancakes as a special food one of my characters enjoys. Ooooo. Maybe I will include a mystery about missing pancakes on Gull Island -:D!
Sass: Another great question, Sabrina; great job! Beautifully answered as well! Ok, we have one more question, and it's from Stacy, an elementary-schooler. Stacy, what's your question?
Stacy: What is your favorite season and why?
Cat: Summer, summer summer, Stacy! Beach and swimming especially! I loved summer as a kid (and a teacher) because of the loooonnnng summer v*a*c*a*t*i*o*n.
Sass: Ha ha! Perfect question to end all questions. Cat, this has been such a treat for us here in Blountville. Thank you sincerely for agreeing to talk with us today.
Cat: Awww, thanks for inviting me, Sass!
Looking forward to hearing more about your blog and Cat's writerly journey. I hope I bump into you and your readers in cyberspace, too. Don't be strangers, y'all. Happy tales!
Sass: You're quite welcome, and thank you, Cat!
Now, we have something special for all of you listeners today. You heard all of the cool things waiting for you in Sweet T and the Turtle Team, well how would you like to receive a free digital version of that title? Be the first to answer the following question in your comment, and you will be sent a digital copy free! Ready? Here we go…
WHERE did Cat set the story of Sweet T and the Turtle Team and WHY did she select that location?

WAIT!
We have a winner!
Congratulations to Sheri S. Levy!!!
And that is that! This is Sass Bloom, and I thank you for being with us today. A special thank you to the wonderful author Cat Michaels and our unbelievable studio audience.
Sass Bloom signing out!
For more information about Cat Michaels and her wonderful stories, please visit her at http://www.catmichaelswriter.com.