So Wicked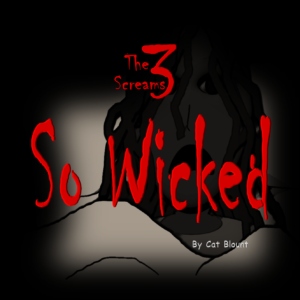 So Wicked by Cat Blount
Book 3 of The 3 Screams Trilogy
3 short spooky stories that will capture and take hold of your attention from the beginning of each tale to the end.
So Wicked
Scheanna is beautiful, popular, and envied by everyone. She doesn't like mistakes, she doesn't like excuses, and she doesn't like imperfections. Elizabeth, a shy girl in class, made the horrible mistake of listening in on one of the popular girl's conversations to her friends. She meant no harm, but it was too late; she was Scheanna's next target. Scheanna's reprimand was her best yet. The more uncomfortable Elizabeth felt, the more the verbal lashing continued. Why is it ok for Scheanna to be so awful to everyone? Will no one make her pay?
This ebook can be purchased through Amazon to be viewed on your Kindle or with a free Kindle app for Windows 8, Android Phones, Android Tablets, and iPads, as well as with the Kindle Cloud Reader.