Catblog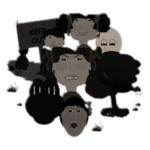 The best way to view this blog is to view it by category [scroll down to see all categories]. Once you find the category that you are interested in, click it. You will be brought to relevant posts. Click on the title of each post to view it better and/or to leave a comment. If you do not see a category listed, it simply means that I haven't posted anything in that category yet.
Here is a list of my categories and a short description for each:
From the Mind of an 9 Year Old
You will laugh, ponder, and relate. This 8 year old has character, and oodles of it!
Cat Blount Studios
Our very own, Sass Bloom, will interview characters, cool, interesting individuals, and other awesome children's book indie authors!
Caitlin's Corner:
Our teen contributor here to talk about "stuff."
Cat Blount Stories:
Posts and information relating to my titles and its characters.
Blount Village Press:
Everything that goes on in Blountville as told by our Blount Village Press writers.
Characters:
My characters are real, and they have plenty to say.
Mrs. Peters, Bullysitter:
Mrs. Peters, model turned Bullysitter, is here to offer her advice on self-confidence and the bullying epidemic.
Happy Being Indie:
I am so happy to be an indie author. For me, there is no other option. Let me remind you of how wonderful it is!
I hope you enjoy your time with us… God bless and take care.
All illustrations used throughout this blog is copyrighted material.